Inspired by Violette's visits to the rose gardens at Jardin Bagatelle in Paris, this matte lipstick is iconically French. The color is deep, yet vibrant with electricity. As Violette says, "it's turned ON!". The formula is longwear and comfortable on the lips. The feeling is powerful, sexy, exciting, and fierce. 
We suggest keeping this one in your bag with Baume Shine and Avec Amour to add freshness and vavavoom whenever (and wherever) you like.
Isododecane, Dimethicone, Trimethylsiloxysilicate, Ricinus Communis (Castor) Seed Oil, Candelilla Cera/ Euphorbia Cerifera (Candelilla) Wax/ Cire de candelilla, Polybutene, Silica, Disteardimonium Hectorite, Sorbitan Sesquioleate, Propylene Carbonate, Tribehenin, Dimethicone/PEG-10/15 Crosspolymer, C13-15 Alkane, Hydrogenated Castor Oil, Cera Carnauba/Copernicia Cerifera (Carnauba) Wax/Cire de carnauba, Tocopheryl Acetate, Tocopherol, Ascorbyl Palmitate, Dipropylene Glycol, Sodium Citrate, Mica, Calcium Sodium Borosilicate, Synthetic Fluorphlogopite, Calcium Aluminum Borosilicate, Tin Oxide, Phenoxyethanol, Titanium Dioxide (CI 77891), Iron Oxides (CI 77499), Red 7 Lake (CI 15850), Red 28 Lake (CI 45410), Yellow 5 Lake (CI 19140), Yellow 6 Lake ( CI 15985)
In truth, I've been developing Petal Bouche in my head since I was a little girl running around Jardins Bagatelle in Paris, surrounded by the most beautiful roses... It was here I discovered the most incredible "black" rose—the deepest red rose you can find—and my obsession began. I started to imagine this exact color and texture on the lips of every French woman I passed on the street, and as soon as I was old enough, I began a desperate search for this perfect, matte red lipstick, but it didn't exist. Later, as a makeup artist I worked like a mad chemist on every shoot trying to recreate this velvety rose. By the time I got into a lab my vision was exact and my standards were HIGH, so it took nearly two years of me saying "2% more yellow! 1% more blue! More vibrance!" and driving my chemists absolutely crazy before we were finally able to bottle up the love of my life…my dream came true...Petal Bouche.
Apply Petal Bouche On Bottom Lip
Apply Petal Bouche On Top Lip
For An Ombré Effect, Apply To The Corners Of The Lips

For A French-Kissed Look, Blend The Edges With Your Fingers
The V_FR Standard
Safe, No-Compromise Ingredients
We surpass FDA cosmetic requirements for the U.S. and adhere to the stricter European Cosmetic Directive for safe ingredient use. We consistently test our products to ensure safety and efficacy. We prioritize high quality, ethically-sourced ingredients without compromise on performance or luxury.
Vegan and Cruelty-Free
There are no animal-derived ingredients in any V_FR products (yes, we made the perfect red lip without carmine), and none of our products are tested on animals and all ingredients have been verified to meet the animal testing ban for Europe.
Environmentally-Conscious
We are committed to sourcing and utilizing environmentally-conscious materials that are currently available versus creating concepts that may produce more waste --from the sustainable harvest of natural ingredients to packaging made mainly of PCR and PET -- a challenge that pushes us to be as innovative as possible.
Commitment to Always Do Better
While we will continue to strive for the most environmentally-conscious and clean beauty standards, we recognize that we can always do better, which requires our consistent, active engagement. We make this commitment to ourselves and you.
Customer Reviews
05/23/2021
Giovanna M.

United States
05/07/2021
Seska

Canada
04/23/2021
Erin

United States
The BEST red lip!
Petal Bouche is now my favorite red lip color. The formula glides on effortlessly and makes me, a non makeup pro to say the least, look like a professional. I love that it stays all day even through mask wearing, eating, drinking, and countless Zoom meetings. Also, it doesn't dry my lips out!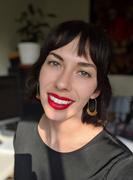 09/03/2021
Nata

United States
Seriously, the best red lip
I own soo many lipsticks that I never use and this one got me to wear red lips every day. Color is great, maybe a little blue. The texture is everything- just flawless. Saturated (a little goes a long way), natural (not too matte, more velvety), very buildable, and stays put. I hope they launch more colors.
08/27/2021
Stephanie

United States
Thee prettiest red
This really is The Shade of Red! Such a gorgeous, rich color. I took off one star because it doesn't dry down totally matte and as a result tends to bleed a bit/it's very easy to smudge if you're not being super careful while wearing it out and about. I also wish the applicator brush was a bit smaller but god is that color pretty. I also love that you can layer it and build up the color more with no problems!
07/19/2021
Katie

United States
Gorgeous color
This is a gorgeous red lip. Beautiful pay off, and I like the applicator shape. Love it applied with smudgy edges for a more undone look. My only complaint is the formula is very thin and takes a little while to dry down, so it's easy to get a messy edge if you've applied too much in one spot. Definitely need to be judicious with application and wipe the brush off before you swipe it on.
06/23/2021
Maddie

United Kingdom
The red of all reds
Amazing! I'm known amongst those who know me well as wearing a signature red lip most of the time. Believe me I've tried a lot of red lipsticks over the years since my late teens/early twenties and I turn 40 at the end of this year. A red lip is such an easy to wear classic feminine look and very timeless. This surpasses my expectations it's such a beautiful colour. The pigment is intense and a tiny bit goes a long way. I like to wear reds different ways depending on my mood or what I'm doing. Sometimes I opt for a blotted look or light stain effect that I can build up, sometimes I put a clear gloss over the top or a balm underneath for shine and other times I like a full on opaque look. This product can do all of that, it's so versatile and the shade is like no other red I've ever tried. I have found the much coveted perfect red I've been looking for my whole life. It should go down in cosmetics history as the best red EVER created. It's that good!! Big thank you to Violette and team for understanding and creating a unique collection based on what women really want and need. Loving the Avec Amour perfume and Baum Shine too. Can't wait for my next order to arrive. ***
06/23/2021
jo

United States
holy cow - what a red!
So I bought this 100% because the idea of velvet rose petal lips brought back images of the brilliant flowers in my mom's garden. I was in high spirits and needing some retail therapy, I bought it before i could talk myself out of it. :) I've always been hesitant with anything red beyond a sheer, highly blotted lip. I don't exactly have the kind of big, full pout that looks amazing with lipsticks - I've got a small, rather thin-lipped sort of old-ladyish kind of mouth to work with. So when this arrived, and I'm standing in front of the mirror with this gleaming, tube of DEEP OPAQUE RED.... I *panicked*. (Oh sh**t i need to be so put together for this lipstick. My makeup has to be exactly right, god my face is so wrong for this. ETC) This morning, running late, i didn't do the whole Makeup Thing. I groomed my brows, slapped on some concealer and mascara and looked at that red tube on my counter. Then, I said "**** it. Today I want to have roses on my lips". One light coat, smudged edges. The red is profoundly beautiful. Intense and almost "neutral" compared to other reds that i have. It looks like velvet and so far, it's still wearing like iron after about 3.5 hours, without any of the parched desert lips that liquid mattes often leave behind. It's beautiful, and honestly, I don't feel overly "fancy" or made up wearing it. But I do feel like a more put togther, "I can handle today" version of myself. Good work. :)
06/22/2021
Reems

United Kingdom
OMG SUBLIME!!!!!
This is gorgeous. I have no words. It's literally that Blood Rose Red that Violette describes seeing on an actual rose and then wanting to emulate!! I'm rubbish at applying colours and didn't follow the lovely Violette when she said to blot the excess on the side of the tube when applying ha ha, but apart from that truly stunning red and a beautiful colour. (Please please pop-up in London now Covid is waning!) Rx
06/12/2021
Sophia

United States
PERFECT
I have never left a review for a beauty product before, but this lipstick is incredible. The perfect red, the perfect texture and consistency. This velvetiness is insane. Such an amazing product.
Sexiest Red
Takes a little practice to put on (the trick is to use very little product by wiping the excess on the sides of the tube), but worth an uh oh or two! The red is so deep and perfect. I have gotten a lot of compliments, including one from my boyfriend, who never notices my makeup! He said my lipstick is sexy.
06/06/2021
Maddalena

United Kingdom
The red of all reds!
Omg. I can't get over how much I love this lip colour. My signature look has always been a red lip with minimal make up on rest of face. I just think it's such a classic feminine look and very timeless. I've tried many over the years...I'm almost 40! This is the holy grail of reds! Even though I love red lips it also depends on my mood and what I'm doing at the time. I like to stain the lips for a subtle effect at times by blotting then reapplying to build or sometimes using a gloss on top and other times a really bold full opaque pop of colour. I prefer minimal versatile products that you can achieve these looks all from one product. And this is it! I can use the tiniest amount for a stain, I can build it if I want to, put a clear gloss over it to change it up or wear it full on strong for that statement red lip. It's AMAZING colour, quality and texture. It's the red I've been searching for my whole life. Very happy with this, PLEASE NEVER STOP MAKING THIS PRODUCT. I LOVE it!!! Thank you so much Violette and team for understanding and developing what women want and need from their make up. x
06/02/2021
Miryam

United States
Lovely
It's just so perfect. The texture of the set lip looks like a flower petal. My husband, who doesn't like a bold lip, loved it.
05/30/2021
Whit

United States
Perfect rose petal shade
My Polish great grandma was a champion rose-grower in our home state. This color is so good at representing the dark, intense, velvety color of a red rose petal. I had been wanting this exact color so long, and I am so happy it's here. I do hope it comes out in a bullet form someday though, as I often finds liquid lipsticks a bit drying for me. I add a balm first and it helps the lipstick apply cleaner.
05/16/2021
Brianna P.

United States
Wow
I have never worn a liquid lipstick before & I haven't been wearing makeup for the last 6 years, so I wasn't sure I could figure this out. I was shocked at how easy this was to apply! It looks great on my medium tan olive skin & it is long lasting but comfortable. The second time I wore it it held up for 7 hours under my mask at work, through lunch, & through drinks with friends. Mind blown.
05/15/2021
Audrey

United Kingdom
Perfect colour
Once you figure out how to apply it - the colour and texture is amazing. Still a touch on the dry side even after moisturising lips, and would prefer if there was a better stopper to prevent as much pigment coming out, but otherwise, amazing colour! Really looks like rose petals on the lips