One sensual gesture and you've fallen in love with yourself all over again. Think of this fragrance as the match that lights the flame. Feel the way it touches your skin as you slowly roll it over the places you'd like to be kissed, and take pleasure throughout the day as the scent becomes your own.
Avec Amour is tiny, chic, and rolls onto the skin, which means application can be very discreet, or very sexy—whichever you prefer. Toss it in your bag and reapply whenever and wherever feels good.
TRIETHYL CITRATE, CAPRYLIC/CAPRIC TRIGLYCERIDE, FRAGRANCE (PARFUM)
To me, beauty is a mood —not a "look." That's why I couldn't develop any other products before creating this perfume. I had to capture that sensual, daring, free attitude that makes a person feel beautiful way before they put makeup on. This scent, above all, makes you feel something, but it also serves as a gentle reminder that beauty so often emerges from what we cannot see. It doesn't stop with scent however. When you touch a roll-on fragrance directly to your skin, it becomes a sensual way in which you connect back with yourself throughout the day. This is not a moment to be ashamed of, so I made Avec Amour tiny and chic so you'd be proud to pull it out of your bag and reapply—wherever. A few people might fall in love with you along the way, but that's just a side effect. First and foremost, you apply it "with love" for yourself.
Apply Avec Amour Behind Ears
Apply Avec Amour On Clavicle
Apply Avec Amour On Wrists
Apply Avec Amour On Chest
The V_FR Standard
Safe, No-Compromise Ingredients
We surpass FDA cosmetic requirements for the U.S. and adhere to the stricter European Cosmetic Directive for safe ingredient use. We consistently test our products to ensure safety and efficacy. We prioritize high quality, ethically-sourced ingredients without compromise on performance or luxury.
Vegan and Cruelty-Free
There are no animal-derived ingredients in any V_FR products (yes, we made the perfect red lip without carmine), and none of our products are tested on animals and all ingredients have been verified to meet the animal testing ban for Europe.
Environmentally-Conscious
We are committed to sourcing and utilizing environmentally-conscious materials that are currently available versus creating concepts that may produce more waste --from the sustainable harvest of natural ingredients to packaging made mainly of PCR and PET -- a challenge that pushes us to be as innovative as possible.
Commitment to Always Do Better
While we will continue to strive for the most environmentally-conscious and clean beauty standards, we recognize that we can always do better, which requires our consistent, active engagement. We make this commitment to ourselves and you.
Customer Reviews
Write a Review
Ask a Question
11/09/2021
Tina

United States
sensual and sweet
Lovely, sophisticated and sweet like powder or a vanilla soap, at first. But gentle. It reminds me of the lightness of Grace by Philosophy -powdery and light without being "old lady." Within an hour, it turned lightly musky, and my husband was rubbing his nose in my neck. The next day, I could detect some of the scent on my blouse in a good way. The bottle is so beautiful and nice to have out or in my purse. I will be buying this again.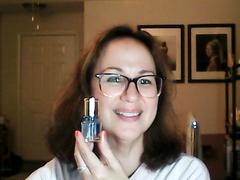 06/10/2022
Ashleigh T.

United States
Light and Sweet
I rarely blind purchase perfumes but it has citrus base notes which is everything I wear so I was very excited about it. While it does smell light, sweet, and with a hint of musk it also reminded me of my grandmother. Fond memories but not something my young self wants to smell like.
06/08/2022
vindra d.

United States
Soft and beautiful
I adore this scent; it is very soft and delicate. My only concern is how quickly the scent dissipates. I wish it lasted longer.
06/03/2022
Sarah H.

France
The scent of the sensual ✨
Je n'achète jamais de parfum sans l'avoir senti et testé sur moi avant, mais là, suivant Violette sur les réseaux et aimant beaucoup la marque et tout ce qu'il y a autour je me suis lancée. Et je ne regrette pas! D'abord, l'originalité et le geste très sensuel de la pose du parfum sur soi et permet de le déposer parfaitement aux endroits désirés, le flacon tellement joli, travaillé dans les détails, jusqu'au nom, et l'important, l'odeur parfaite, tout est équilibré, il sent divinement bon, ni trop ci ni pas assez ça, il se marie parfaitement à ma peau et laisse un léger sillon divin! J'en suis à mon 2ème flacon et ce ne sera pas le dernier! Et plus de pschiiit pour moi!
06/02/2022
Juliet B.

United States
Perfection in a bottle
I've been searching for the perfect in between seasons fragrance. Something not too heavy but not too light. Avec Amour is perfect. It doesn't feel like too much on the skin, but it also has enough substance that when someone is close enough, they can smell it. And everyone who has smelled it says they love it. It feels glamorous and earthy somehow, at the same time, and lasts a decent chunk of time on me. The bottle is very attractive, so when I know I'm going somewhere after work, I just take it with me for a little punch up.
06/02/2022
Claudia C.

Canada
Great perfume!
Subtle enough to wear in this world that is more and more scent sensitive
06/02/2022
Sarah A.

Canada
Smoky, sweet, and resinous
On me, the smell of amber is probably the strongest -- giving this fragrance a romantic but slightly dark and syrupy scent. I don't get as much of the powdery top notes that I've heard from others, and I wish that the citrus peeked through a bit more. But overall I love this and it'll definitely be my go-to Summer fragrance.
05/16/2022
Sarah B.

France
Love avec Amour
Exactly on line with my dream.
05/13/2022
Miroslava S.

Slovakia
Miroslava
Simple the best.
05/10/2022
Grace V.

United States
Spicy Sweet
This perfume smells like a super cold winter morning where the air is so crisp it's almost spicy and hurts to breathe in. It doesn't hurt to breathe in this perfume but it has that same spiciness to it while also being sweet. However, it is not a creamy sweet or gourmand. It's just spicy and sweet? I have never smelled anything like it before and it has grown on me. The only thing I wish is that it lasted longer.
05/09/2022
Camille D.

United States
Don't love the smell
The experience buying it was great and the packaging is gorgeous (I love the postcard!), but try as I might, I just don't like this smell. I was hoping it would be muskier (and smell kind of like the Amber fragrance oil from Nemat) but it just smells like a pastry, and not in a good way. It's no one's fault, no single smell can be for everyone.
05/09/2022
Christina S.

Canada
Game Changer
Truly one of the most unique scents I have ever smelt. It wears beautifully and is so enthralling. An added bonus is the packaging is absolutely beautiful. This scent will be something I reach for for the rest of my life!
04/24/2022
Nora

Germany
Definitely unique
I have bought this last year and it was my quick, on the go scent. It is a really small bottle but after using it every day for a good 6 months at least, i still have 3 quarters of it left. This is wondeful for the price you pay. It is so easy to apply and have in your bag and so cute, looks like an "elixir" bottle. It is sweet but woody, very subtle scent (it does smell fear not, but you won't leave a trail behind you to bombard those around you) and because of the oil like consistency, I find that it stays on quite long too (for me 4 to 5 hours). I also love the fact that it is unique. You won't smell like your friends. This is something I Personally consider when buying perfumes.
04/16/2022
Tamara B.

Germany
Love the scent - and in theory the application
The scent is lovely: powdery, slightly musky, but has a freshness as well. Basically smells like a date on the beach under the stars. The flacon looks very chic and so does the roller ball. But I must say, I would still prefer a spray flacon
04/13/2022
Mari E.

Norway
Amazing smell
It was a bit scary buying perfume without trying, but I couldn't be more happy! Love the application and smell
04/09/2022
Aurora V.

United States
Subtle and gorgeous
I wasn't sure how I felt about this at first, as my initial impression was that it smells a bit powdery (as some other reviewers have described). However, now I can't get enough of it! It's subtle enough to be worn at work, doesn't give me headaches (a lot of perfumes do). The application feels very luxe and the bottle is so elegant on my shelf. Highly recommend!