A minimalist's dream skincare routine— this 3-in-1 spray is a toner, serum, and moisturizer in a bottle. The one-of-a-kind probiotic-based solution delivers rebalancing, hydrating, and soothing effects on skin for muse-worthy appeal.
Fermented Birch Sap deeply hydrates dry skin like a drink of water while protecting skin's natural microbiome for calmer, less reactive skin, and better cell regeneration
Glacial Water is charged with several key minerals that helps skin rehydrate and recover
Squalane moisturizes and restores the skin barrier while creating suppleness and bounce
Olive Leaf Extract energizes skin cells to operate at top function for smoother skin
WATER (AQUA)(EUA), BETULA PENDULA (BIRCH) SAP, GLYCERIN, PENTYLENE GLYCOL, CAPRYLIC/CAPRIC TRIGLYCERIDE, HELIANTHUS ANNUUS (SUNFLOWER) SEED OIL, SQUALANE, AESCULUS HIPPOCASTANUM (HORSE CHESTNUT) SEED EXTRACT, ARTHROSPIRA PLATENSIS EXTRACT, CAMELLIA SINENSIS LEAF EXTRACT, OLEA EUROPAEA (OLIVE) LEAF EXTRACT, CALENDULA OFFICINALIS FLOWER EXTRACT, CYAMOPSIS TETRAGONOLOBA (GUAR) GUM, CETETH-20 PHOSPHATE, CETEARYL ALCOHOL, DICETYL PHOSPHATE, TOCOPHEROL, LEVULINIC ACID, SODIUM HYDROXIDE, SODIUM LEVULINATE, XANTHAN GUM, BENZYL ALCOHOL, DEHYDROACETIC ACID, CITRIC ACID
Clinical trials and user surveys
This is how the story goes… I said to my chemists, "OK, I want one product to replace my skincare routine. But I have very high expectations and I don't want to compromise at all. It needs to be anti-inflammatory, use only ingredients that are safe for me and the environment, and I want my skin to become better every time I use it... Oh—and it needs to be affordable. I assumed my chemist Luc would ask me what I was smoking! Instead he just said, "ok, ca marche!", which means "Ok it works!", and Boum-Boum Milk was born. Now it's all I use—at night after cleansing, in the morning before makeup, throughout the day, whenever I need a boost. I even love it for a bit of texture in my hair. It gives me so much more than I ever expected, and asks so little of me in return. That's why there is no doubt in my mind that this is the product I am the most proud of.
Spritz Boum-Boum Milk All Over Just-Cleansed Skin
Mist Over Hair for an Added Moisture and Shine
Clinical trials and user surveys
Reported by our subjects:
After using Boum-Boum Milk,
100% of testers showed Increased Hydration (by an average of 58%)*,
100% of testers showed Reduced Redness,
78% of testers reported Smoother Skin**
Clinical trials and user surveys
Boum-Boum Milk
We partnered with a third-party testing facility for two types of evaluations: One series of tests used objective measurement tools to quantify skin improvements (marked by *) and another series of tests used surveys to evaluate skin changes self-reported by the testers themselves (marked by **).
AFTER 28 DAYS:
100% of testers showed Increased Hydration (by an average of 58%)*
100% of testers showed Reduced Redness*
100% of testers showed Brightener Tone*
78% of testers reported Smoother Skin**
76% of testers reported Increased Glow**
74% of testers reported Firmer Skin**
* Based on an objective clinical evaluation of 10 test subjects, 26 - 64 years of age; twice daily use of Violette_FR Boum-Boum Milk for 8 weeks
** Based on a subjective self-reported survey of 50 test subjects, 22 - 84 years of age; twice daily use of Violette_FR Boum-Boum Milk for 8 weeks
The V_FR Standard
Safe, No-Compromise Ingredients
We surpass FDA cosmetic requirements for the U.S. and adhere to the stricter European Cosmetic Directive for safe ingredient use. We consistently test our products to ensure safety and efficacy. We prioritize high quality, ethically-sourced ingredients without compromise on performance or luxury.
Vegan and Cruelty-Free
There are no animal-derived ingredients in any V_FR products (yes, we made the perfect red lip without carmine), and none of our products are tested on animals and all ingredients have been verified to meet the animal testing ban for Europe.
Environmentally-Conscious
We are committed to sourcing and utilizing environmentally-conscious materials that are currently available versus creating concepts that may produce more waste --from the sustainable harvest of natural ingredients to packaging made mainly of PCR and PET -- a challenge that pushes us to be as innovative as possible.
Commitment to Always Do Better
While we will continue to strive for the most environmentally-conscious and clean beauty standards, we recognize that we can always do better, which requires our consistent, active engagement. We make this commitment to ourselves and you.
Customer Reviews
Write a Review
Ask a Question
09/02/2021
Erin

United States
Great for Sensitive and Mature Skin
Boum-boum milk is a great product. I have been using it regularly as my daytime routine and it does replace my toner, serum, and moisturizer. I have sensitive, 50+ skin and am cautious about changing products. But boum-boum milk leaves my skin feeling hydrated and glowing. It's a great base for makeup, under sunscreen, or on its own. I don't upload photos but adding one here as a help for those with sensitive or mature skin. Taken with just B-BM, bouche balm and mascara. Definitely going to keep buying!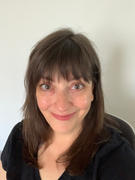 04/25/2021
Kaity W.

United States
Magic?
I have been using this product for four days, FOUR DAYS, and my skin has changed. I've been having breakouts around my jawline and had some pesky red marks that just wouldn't fade. They are gone and my skin is glowing. Actually glowing. I woke up this morning and was speechless, using this product is the only thing I've changed in my routine in months. Do I recommend this product? Yes get it now lol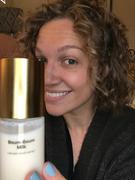 04/23/2021
Katie C.

United States
Amazing results in just one week!
I absolutely love this product! My is very sensitive and I have a difficult time finding a moisturizer that doesn't irritate my skin. Before using Boum Boum Milk my skin was very enflamed and broken out. After one week of using BB Milk my skin is looking and feeling so much better! It is so simple to use and shortens my skin care routing without compromising my skin care! Love it! ♥️ Skin before on the right and after one week on the left.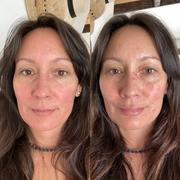 01/30/2023
Louise B.

United States
OUTSTANDING MIRACLE!!!
OUTSTANDING MIRACLE!!! I can not say enough wonderful things about the Boum-Boum milk! I heard a podcast with the founder that intriged me, and I decided to try this Boum Boum Milk the pod hosts raved about...and I rarely buy into the hype. My career is in Skincare- so I have seen and used everything. WELL- I eat my words...I have dry mature skin. I live in cold winters and dry summers...and this leaves my skin BOUNCING??? I bought a second bottle, because I feared running out. I rarely rebuy a product! I then added the cream (to match?) to cart! and that is AMAZING as well!!!!!!! Please do not EVER discontinue this or change formula- its a MIRACLE!!!!
01/29/2023
Sabrina C.

Canada
Boum! It's a game changer
This product is absolutely incredible and has quickly become a stable in my beauty & self-care routine. Boum-Boum Milk is not only amazingly hydrating but is also very calming for those with sensitive skin like myself. I have never reacted while using this product which is a miracle in itself! For context, it's difficult for me to find quality moisturizers (with natural ingredients) that work well with my skin and do not break me out. Boum-Boum Milk is the milky goodness I have been searching for - it goes on so smooth and your skin instantly feels plump and hydrated. It claims to be a 3-1 toner, serum, and moisturizer and it delivers on all fronts in my opinion. It really is that good, I cannot recommend it enough x
01/27/2023
Michelle B.

United States
Boum boum milk
Love it the glow the moisture on your skin it's so good I don't use moisturizer sometimes.
01/27/2023
Bre F.

United States
Love this!
I have incredibly sensitive, acne-prone skin and I use this several times a day without issue! It's hydrating without feeling heavy. I love it!
01/26/2023
Terry J.

United States
my daughter loves your boum-boum milk. it calms her skin down
excellent, everything shipped on time and arrived undamaged
01/23/2023
Jehan R.

United States
Love love love the Boum Boum Milk
I'm in love with this product! So light and so powerful! I'll definitely be purchasing again.
01/23/2023
Kathleen S.

Belgium
Boum Boum milk
Produit top !! Hydrate super bien , agréable à utiliser, j'en suis à mon 3 ieme flacon Je peux plus m'en passer !
01/19/2023
Shelley D.

United States
Game changer
This product is everything. I use it under makeup, over makeup and after washing my face. It's THAT good.
01/16/2023
Mariann S.

United States
Awesome moisturizer
Really love this moisturizer, toner and serum all in one. Love the idea of a spray bottle.
01/15/2023
Elena M.

United Kingdom
Beautiful product
I've become en love with this product. I have oily skin and to me it seems that this and eye cream it's enough under the spf cream. It gives such a luxurious feeling of this is all you need and the experience of using it. It made me rethink my skincare routine once more. I keep falling into the habit of keep purchasing this & that serum. But in truth one good product is all you need. I'm really happy I made the jump and purchased it.
Improved my dry winter skin after 1 day
This winter has been brutal on my skin. My cheeks felt like sandpaper. I tried the Boum-Boum Milk, and my skin was about 60% better after one day, and 100% smooth by the second day. It's worth every single penny.
01/13/2023
Kristina S.

United States
The Best
This is my second bottle. I've used every drop of the first one. This spray is truly incredible. My skin stopped flaking and is glowing and healthy. I can even use it without any other product. I'll keep buying this over and over. It's the best.
01/13/2023
Liia H.

Estonia
Boum Boum Milk
My husband has bought this item for me last 2 Christmases and I am very happy to receive it. He had read an article about it in HTSI (FT) and was a total surprise to me, and have been very impressed by the quality on my skin and the results are great. Thank you