One sensual gesture and you've fallen in love with yourself all over again. Think of this fragrance as the match that lights the flame. Feel the way it touches your skin as you slowly roll it over the places you'd like to be kissed, and take pleasure throughout the day as the scent becomes your own.
Avec Amour is tiny, chic, and rolls onto the skin, which means application can be very discreet, or very sexy—whichever you prefer. Toss it in your bag and reapply whenever and wherever feels good.
TRIETHYL CITRATE, CAPRYLIC/CAPRIC TRIGLYCERIDE, FRAGRANCE (PARFUM)
To me, beauty is a mood —not a "look." That's why I couldn't develop any other products before creating this perfume. I had to capture that sensual, daring, free attitude that makes a person feel beautiful way before they put makeup on. This scent, above all, makes you feel something, but it also serves as a gentle reminder that beauty so often emerges from what we cannot see. It doesn't stop with scent however. When you touch a roll-on fragrance directly to your skin, it becomes a sensual way in which you connect back with yourself throughout the day. This is not a moment to be ashamed of, so I made Avec Amour tiny and chic so you'd be proud to pull it out of your bag and reapply—wherever. A few people might fall in love with you along the way, but that's just a side effect. First and foremost, you apply it "with love" for yourself.
Apply Avec Amour Behind Ears
Apply Avec Amour On Clavicle
Apply Avec Amour On Wrists
Apply Avec Amour On Chest
The V_FR Standard
Safe, No-Compromise Ingredients
We surpass FDA cosmetic requirements for the U.S. and adhere to the stricter European Cosmetic Directive for safe ingredient use. We consistently test our products to ensure safety and efficacy. We prioritize high quality, ethically-sourced ingredients without compromise on performance or luxury.
Vegan and Cruelty-Free
There are no animal-derived ingredients in any V_FR products (yes, we made the perfect red lip without carmine), and none of our products are tested on animals and all ingredients have been verified to meet the animal testing ban for Europe.
Environmentally-Conscious
We are committed to sourcing and utilizing environmentally-conscious materials that are currently available versus creating concepts that may produce more waste --from the sustainable harvest of natural ingredients to packaging made mainly of PCR and PET -- a challenge that pushes us to be as innovative as possible.
Commitment to Always Do Better
While we will continue to strive for the most environmentally-conscious and clean beauty standards, we recognize that we can always do better, which requires our consistent, active engagement. We make this commitment to ourselves and you.
Customer Reviews
Write a Review
Ask a Question
11/09/2021
Tina

United States
sensual and sweet
Lovely, sophisticated and sweet like powder or a vanilla soap, at first. But gentle. It reminds me of the lightness of Grace by Philosophy -powdery and light without being "old lady." Within an hour, it turned lightly musky, and my husband was rubbing his nose in my neck. The next day, I could detect some of the scent on my blouse in a good way. The bottle is so beautiful and nice to have out or in my purse. I will be buying this again.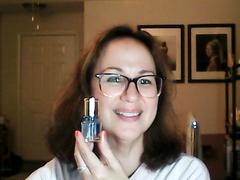 01/22/2023
Elana L.

United States
Great scent, I wish more came out of the rollerball!
I like this scent a lot, but I wish the rollerball was more generous in distributing the oil when I roll it!
01/22/2023
Natasha

Canada
Great concept, purely executed
Great packaging, lovely bottle and cool idea overall, but the product doesn't deliver. It smells like baby powder on me–really quite bad. Santal, vetiver, ylang-ylang or bergamot—I don't pick up any of of the other notes. Can't believe I wasted my money on this.
01/20/2023
W

United Kingdom
Ageing poor relation of Rose Musk
A cautionary tale about buying perfume online and untested. The scent of this took me right back to my university days in the mid 90s - an earthier version of the famous "Rose Musk" beloved of the Indie kids: heavy on the powder, but without the mitigating charm of a lighter topnote. In addition, what you're left with after dry-down is the unpleasant fusty smell of patchouli incense sticks. Definitely a regretted purchase. Will not wear.
01/16/2023
Kristin B.

United States
Obsessed with this fragrance
This fragrance has changed me. I used to only wear gourmand fragrances and I hated roller balls applicators. This scent is not sweet in my opinion, but it is magical. It's a clean, light musk and reminds me of sun kissed skin that's just come out of the ocean. I don't get the vanilla notes that others mentioned, but I wouldn't mind that. I've come to love the roller ball application and have since purchased empty roller balls to put my other fragrances in. It's such an intimate, sensual way to apply a perfume. I also love that Violette is so mindful of what goes into her products, so we know we aren't applying harmful chemicals to our skin. It's made me more aware of what is in my other fragrances. I'll always have a bottle of Avec Amour in my collection of scents and love that she led with a fragrance for her makeup/skincare brand to set the tone.
01/12/2023
Camille P.

United States
I feel the Vavavoom
I was worried about purchasing an expensive perfume before actually smelling it but it all worked out. This perfume smells lovely and is not too overpowering. Its a very handy size to travel with!
12/31/2022
Dala S.

France
Great concept but not preferred fragrance.
Great concept but not my preferred fragrance. Would buy the same product if there were more fragrance options.
12/31/2022
Anne-Marie D.

United States
lovely light fragrance!
It's a delightful blend. Perfect for splashing on. Very subtle but lots of compliments. Highly recommend.
12/27/2022
Claire W.

United Kingdom
Love it
I love it this is my third bottle as I never want to run out. I love the scent and that it's not overpowering and synthetic smelling.
12/27/2022
Raquel M.

Portugal
Avec Amour
This perfume has a beautiful simplicity into it that I like very much. I also feel it very enveloping and warm, like a tender hug.
12/27/2022
Ksenia G.

France
Nice and subtle
I didn't actually get it to wear yet but i sampled it upon delivery and it was rlly nice and subtle. And the Surrealist inspired packaging is a nice touch and nod to the artists heritage
12/26/2022
Pamela F.

United States
Perfume
Love the smell, really quite lovely and warm. Love the heavy cover. The roller ball is awkward though, doesn't roll easily.
12/26/2022
Lucia D.

United States
So so disappointed
Probably old or stored in heat because the scent is gone.
Hi Lucia, We are sorry for your experience! This has not previously been brought to our attention. Our warehouse does not have heat exposure. If you would like to address this further please reach out to avecamour@violettefr.com so we can find a resolution.
12/26/2022
Sarah

United States
Powdery and not much else
So disappointed. I love vetiver but smell almost none in this perfume. The powdery notes are so overwhelming, nothing else comes through. Not elegant or even interesting. Musky powder that lasts for a couple of hours.
12/26/2022
Nicky B.

United Kingdom
I'm in love ❤️
It's a soft and comforting scent. Could be too powdery but there's an undertone of warm skin. Very lovely
12/10/2022
Anna B.

United States
The perfect scent
I have not worn perfume in years, but was want to try something. After reading reviews I knew Avec Amour was what I wanted to try first. It's is soft and warm and just the right amount of fragrance. If you are close to me you'll get to enjoy it, but the smell isn't going to overpower the room and alert everyone you're there before you say hello like other fragrances I've tried. LOVE! I have a new signature scent.