One sensual gesture and you've fallen in love with yourself all over again. Think of this fragrance as the match that lights the flame. Feel the way it touches your skin as you slowly roll it over the places you'd like to be kissed, and take pleasure throughout the day as the scent becomes your own.
Avec Amour is tiny, chic, and rolls onto the skin, which means application can be very discreet, or very sexy—whichever you prefer. Toss it in your bag and reapply whenever and wherever feels good.
TRIETHYL CITRATE, CAPRYLIC/CAPRIC TRIGLYCERIDE, FRAGRANCE (PARFUM)
To me, beauty is a mood —not a "look." That's why I couldn't develop any other products before creating this perfume. I had to capture that sensual, daring, free attitude that makes a person feel beautiful way before they put makeup on. This scent, above all, makes you feel something, but it also serves as a gentle reminder that beauty so often emerges from what we cannot see. It doesn't stop with scent however. When you touch a roll-on fragrance directly to your skin, it becomes a sensual way in which you connect back with yourself throughout the day. This is not a moment to be ashamed of, so I made Avec Amour tiny and chic so you'd be proud to pull it out of your bag and reapply—wherever. A few people might fall in love with you along the way, but that's just a side effect. First and foremost, you apply it "with love" for yourself.
Apply Avec Amour Behind Ears
Apply Avec Amour On Clavicle
Apply Avec Amour On Wrists
Apply Avec Amour On Chest
The V_FR Standard
Safe, No-Compromise Ingredients
We surpass FDA cosmetic requirements for the U.S. and adhere to the stricter European Cosmetic Directive for safe ingredient use. We consistently test our products to ensure safety and efficacy. We prioritize high quality, ethically-sourced ingredients without compromise on performance or luxury.
Vegan and Cruelty-Free
There are no animal-derived ingredients in any V_FR products (yes, we made the perfect red lip without carmine), and none of our products are tested on animals and all ingredients have been verified to meet the animal testing ban for Europe.
Environmentally-Conscious
We are committed to sourcing and utilizing environmentally-conscious materials that are currently available versus creating concepts that may produce more waste --from the sustainable harvest of natural ingredients to packaging made mainly of PCR and PET -- a challenge that pushes us to be as innovative as possible.
Commitment to Always Do Better
While we will continue to strive for the most environmentally-conscious and clean beauty standards, we recognize that we can always do better, which requires our consistent, active engagement. We make this commitment to ourselves and you.
Customer Reviews
Write a Review
Ask a Question
11/09/2021
Tina

United States
sensual and sweet
Lovely, sophisticated and sweet like powder or a vanilla soap, at first. But gentle. It reminds me of the lightness of Grace by Philosophy -powdery and light without being "old lady." Within an hour, it turned lightly musky, and my husband was rubbing his nose in my neck. The next day, I could detect some of the scent on my blouse in a good way. The bottle is so beautiful and nice to have out or in my purse. I will be buying this again.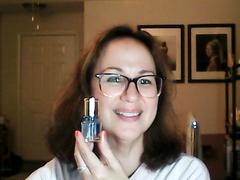 11/15/2022
Jessie

United States
I want to smell like this forever.
This perfume is so delightful and original and light….. I just can't get enough.
11/13/2022
Alisa C.

United States
Love it
Very complex and alluring if you will, love it
11/10/2022
Stephanie B.

United States
So Good!
I love the subtlety of the fragrance. It is lovely.
11/09/2022
Mary R.

Ireland
Avec amour
Love the packaging. Really nice scent but it's too subtle & doesn't last - couldn't detect scent after application on pals or I
11/04/2022
Vinciane R.

Luxembourg
Parfum de (mes) rêves
J'adore son odeur, il est pour moi le meilleur parfum que j'aie jamais porté. Je n'aurais pas pu imaginer un si bon parfum. Pourtant, j'étais dubitative: acheter un parfum sans l'avoir senti… surtout avec du musc (que j'adore, mais bien dosé)… c'était risqué ! Mais il est vraiment parfait! J'aime cette façon de se parfumer, mais j'aimerais juste qu'il soit un rien plus « concentré » pour tenir et sentir un peu plus longtemps.
10/31/2022
Carolyn B.

United Kingdom
Lovely light scent and soothing oil
I've been really enjoying the Avec Amour perfume oil. It is light and fresh and really comforting. The bottle is so feminine and pretty. I'm definitely looking forward to other products and scents from Violette
10/26/2022
Dorsey A.

United States
Perfume
Hi! I like the scent but the rollerball doesn't work great and takes a lot of rolls and never feels like I have much on.
10/25/2022
Joan M.

United States
Gave me a terrible headache
Lesson to never buy fragrance online. The smell is pretty but did not agree with me. Gave me an awful headache and they don't take returns.
10/16/2022
Jane T.

United States
Lovely!
I am not a huge perfume wearer-- but I took a risk and purchased this perfume. I really enjoy the scent- its unique to what I typically go for but has an essence about it that is quite alluring. The staying power doesn't seem to be super strong-- which is ideal for me. I am sensitive to perfumes (many give me migraines) but this one did not. Its soft but sexy. I smell different notes each time I wear it. The bottle is beautiful, and I love the rollerball for on the go. I am very happy!
10/15/2022
Cynthia L.

United States
Heavenly smell
Beautiful packaging and bottle. Rolls on smoothly and most importantly the smell is heavenly. Light, and fresh like baby powder
10/12/2022
Nataliya

United States
Regret
Smells like an old lady's dresser, roller ball does not glide smoothly, and no returns accepted... stuck with it
10/10/2022
Allison M.

United States
Love at third (or fourth) sniff
When I first smelled this out of the box, I wasn't thrilled. Based on the reviews, I was expecting something different. I don't know what I was expecting, but it wasn't this. After a few more sniffs I noticed myself smelling it deeper than before and really enjoying the way the scent made me feel. Now I find myself applying it several times a day (not the longest staying power on the skin) or even just smelling it when I need some comfort throughout the day. Earthy, subtle, vanilla/vetiver scent. Truly blends with your own chemistry beautifully.
10/03/2022
Dana M.

United States
Stinks and gives headache
Reeks of musk oil, no sign of vetiver. Though is was never used they wouldn't allow returns. Gave an instant headache.
10/03/2022
Susie W.

United Kingdom
Disappointing
I found both the roller perfume disappointing (roller didn't dispense product at all well) and scent honestly unpleasant. Also the 3in1 milk was even more disappointing, cheap packaging and the product itself does not feel good on the skin.
10/02/2022
Miriam

Greece
Royalty
Omg I am so thrilled with these products, all of them!! Congratulations!